Getting a loan from HODL Finance is easy. Here's a detailed user's guide on how to get a loan from HODL Finance: 
1. Sign-up
First, visit https://loans.hodlfinance.io/ and create an account.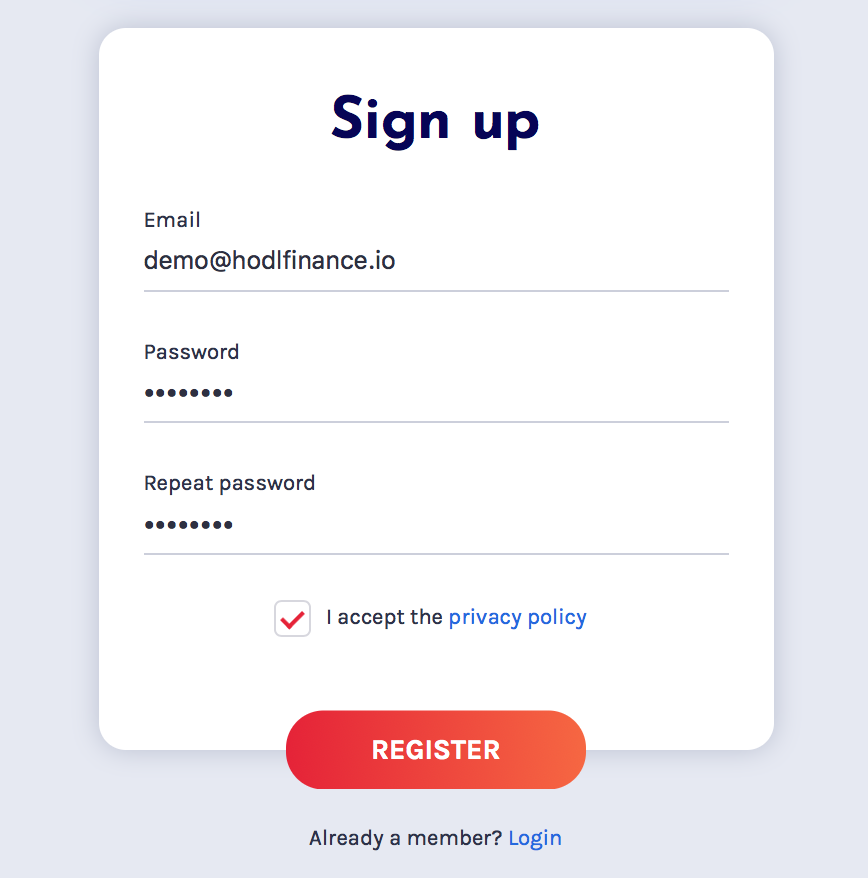 Enter your email. Come up with a secure password and enter it twice.
2. Verify your account
Next, you need to verify your account.
Enter your account at and complete the two-factor authentication (2FA) and know your customer (KYC) process.  You will need to upload a photo and document here.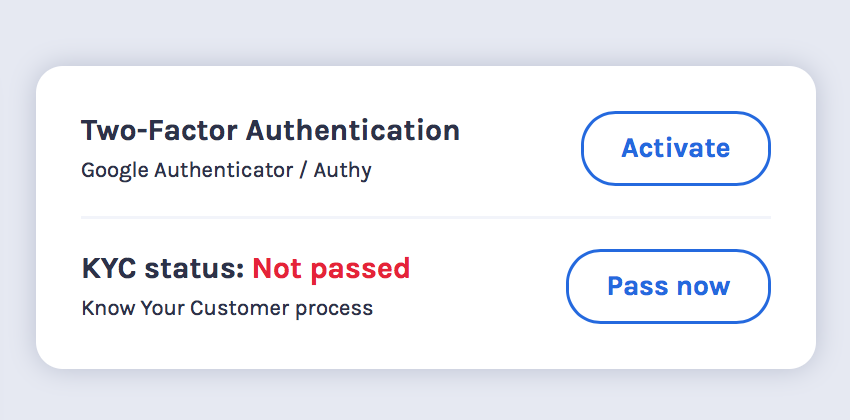 KYC service is provided to HODL Finance from a trusted third-party service provider.
3. Request a loan
Now you're ready to request a loan!
Go to the "Request a Loan" button and choose the amount you want to borrow or the amount of crypto you want to provide as collateral. You can also select the duration of your loan. You'll see information here about your monthly fee and how much crypto is needed as collateral.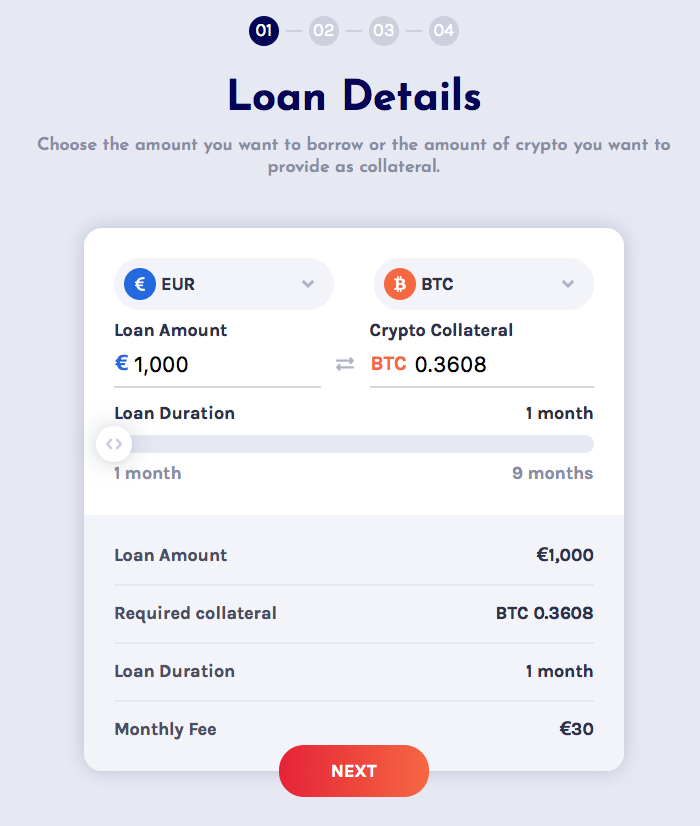 4. Deposit your collateral
The next step is to deposit your collateral.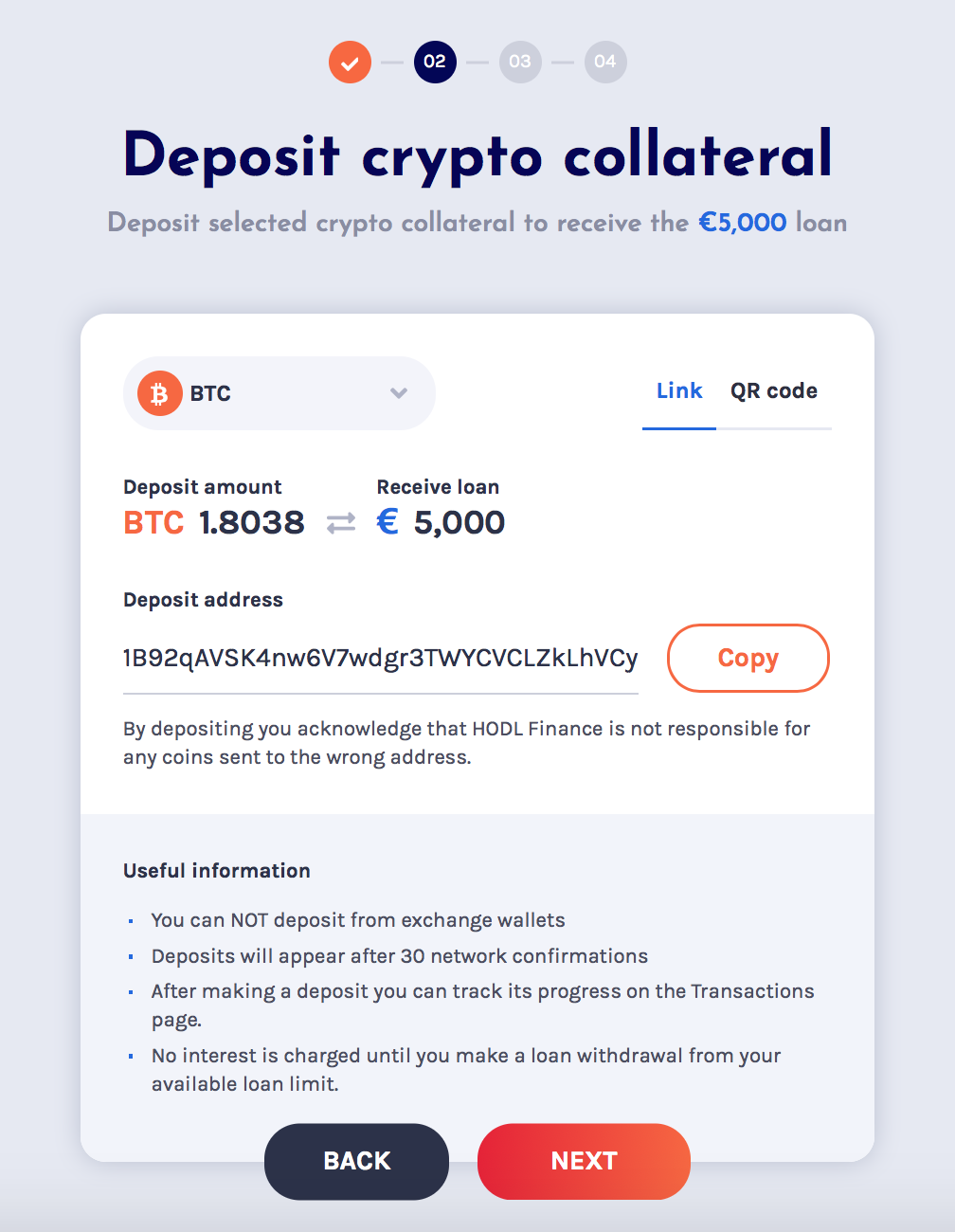 You may use either a link nor a QR code to enter your deposit address.
Failing to deposit collateral will prevent you from getting a loan.
Be reminded that:
Deposits from exchange wallets are not permitted.

Deposits will appear after 30 network confirmations.

No interest is charged until you make a loan withdrawal from your available loan limit.

After making a deposit you can track its progress on the Transactions page.

The client is personally responsible for any coins sent to the wrong address.
5. Choose the payout method
Then you can choose how you want to receive your loan! SEPA & SWIFT transfers are available for your convenience at the moment.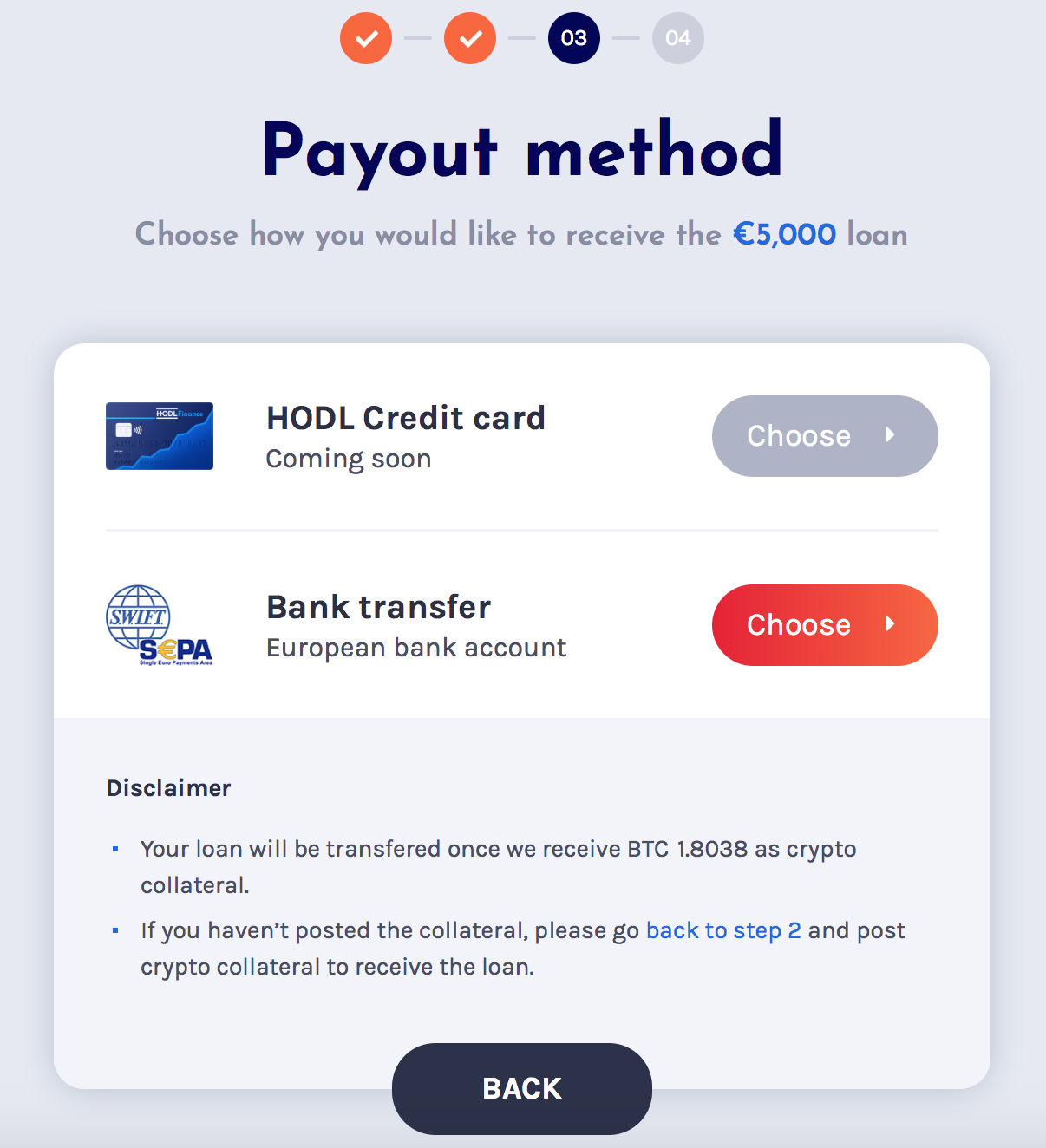 You will be asked to fill in your bank details.
Please note that bank transfers can take up to several business days.
Now you're ready to receive your loan!
6. Check your status
You can check the status of your loan at any time from https://loans.hodlfinance.io/overview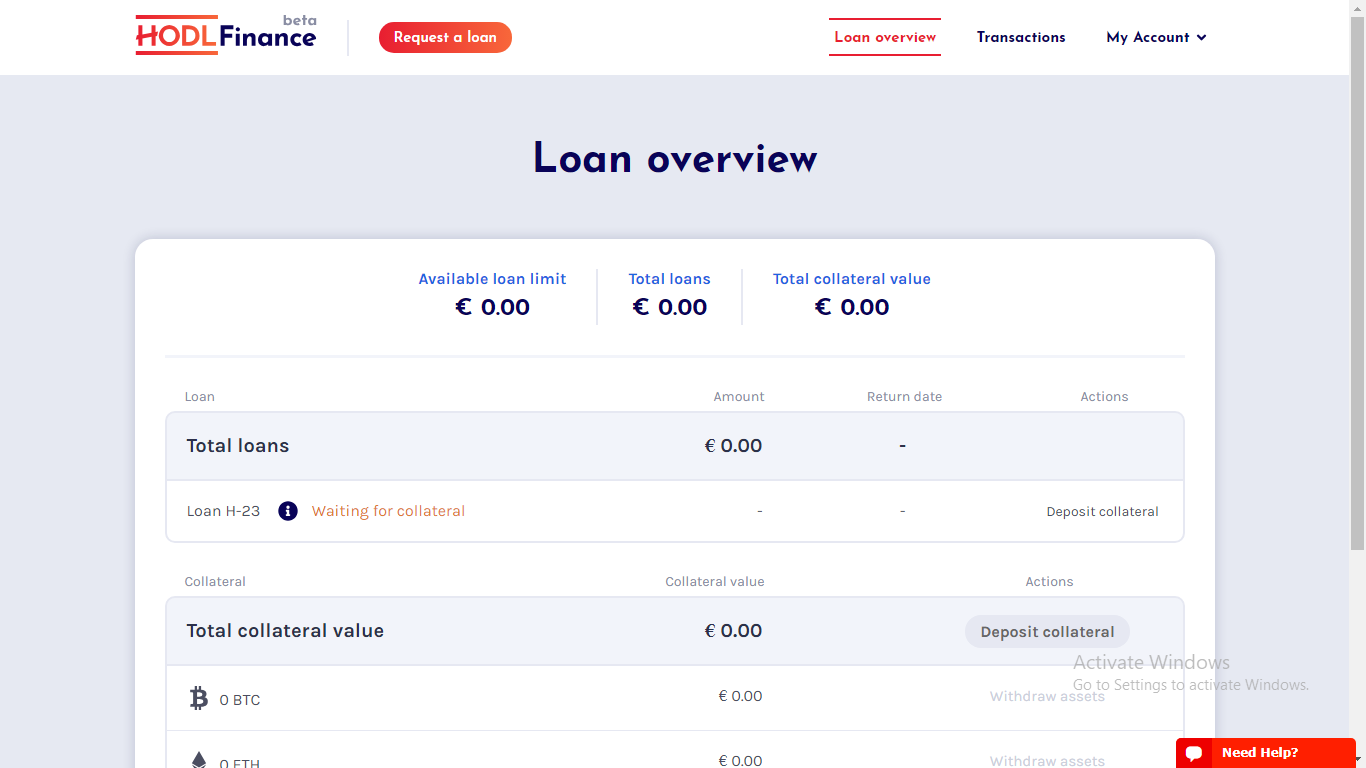 7. See all transactions
You can always check all of your previous transactions by clicking the "Transactions" button: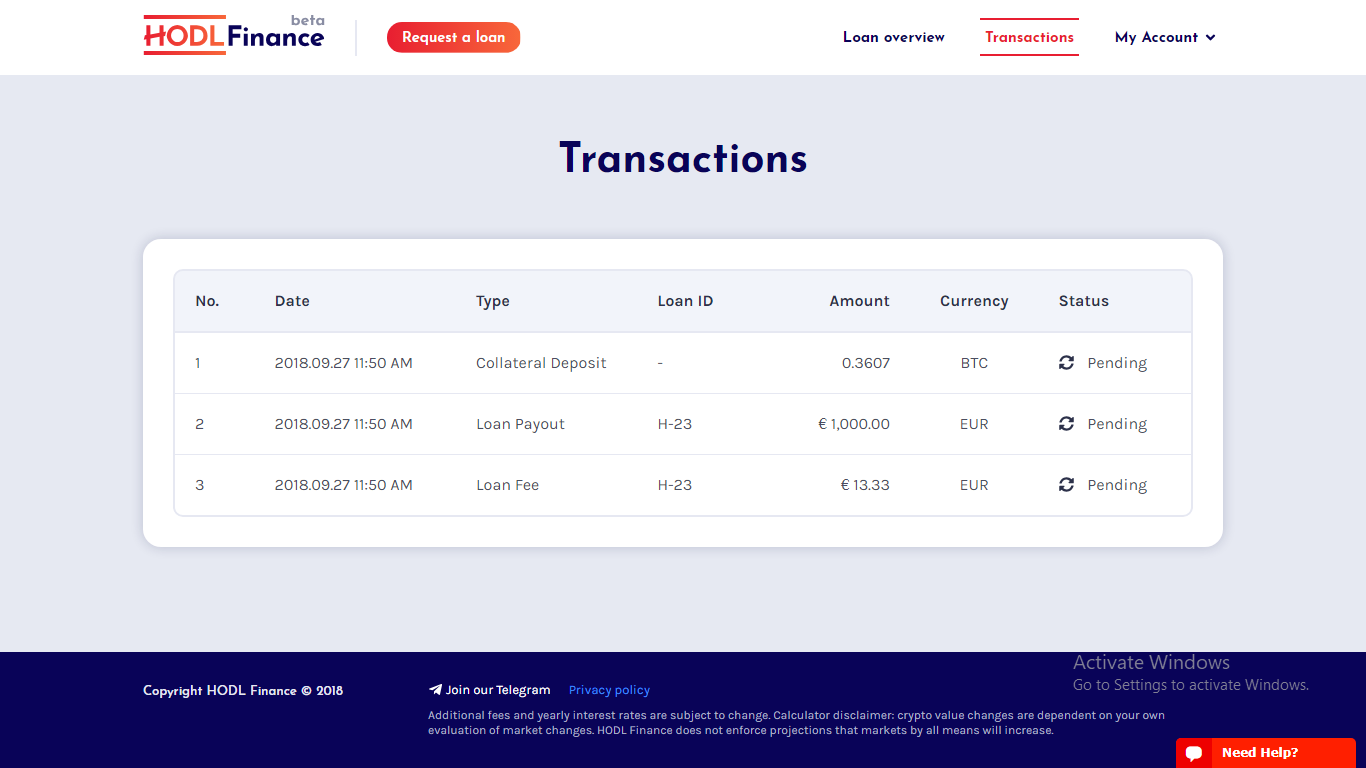 IMPORTANT: be aware that HODL Finance never requests a transfer of any assets via email. All requests & transactions are being performed at https://loans.hodlfinance.io/ only.   
HODL Finance is the European digital lending company. HODL Finance issues loans backed by cryptocurrency and other digital assets. Founded by the shareholders of the peer-to-peer lending platform, Savy, HODL Finance now serves clients around the world.